Riva Grill Wedding Photography
Riva Grill wedding photography of a bride and groom enjoying a quiet walk on the sandy South Lake Tahoe beach at sunset before starting their dance party. Once you've tied the knot and your guest are headed back to the grill to enjoy cocktail hour you'll be on the beach finishing up your formal family and bridal party portraits. After that you'll be able to enjoy the lake shore for some couples portraits along the lake shore. During certain times of the year this beach can be busy with tourist wanting to see the lake. The best time for couple portraits in my opinion is during sunset when the light is at it's best and there are a lot less people on the beach. This will give you more room to move around and get those amazing Lake Tahoe wedding photos.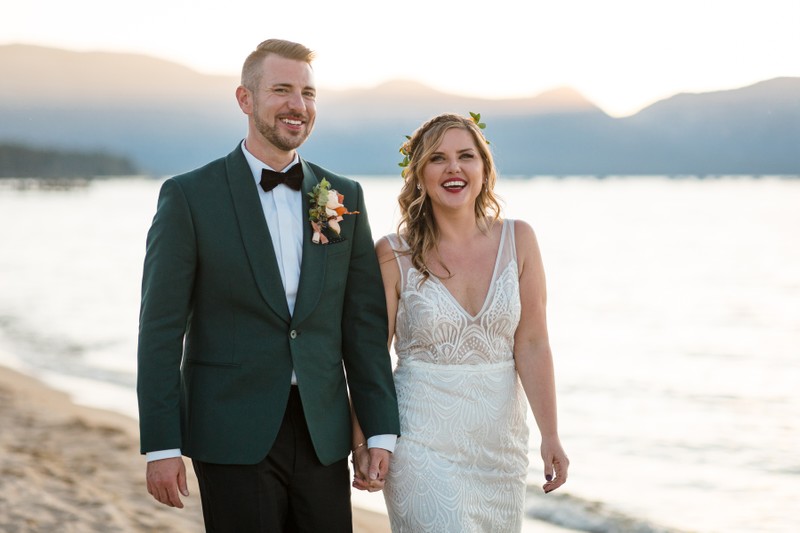 Receptions and events take place on the second story of the Riva Grill. This way your event is out of the way of the restaurant goers and your special day will feel all that much more private to your guest and you. The second story room that host your reception has the best views in the house of the lake and surrounding mountain tops. You'll also have access to a private balcony to mingle on with your guest, while taking in all the views and fresh air. The private second story room is large enough to hold up to 220 guest for dinner and dancing. One of the other major pluses of hosting your special day here is the fantastic food and service. The food that the grill offers is not your ordinary wedding food. You'll be eating top notch meals that the patrons are eating downstairs at the restaurant. Once your meal and speeches are over you'll be able to enjoy the rest of the night dancing and sipping on one of the famous Wet Woody's that Riva Grill is famous for.
Here's a list of unique services that Riva Grill on the Lake offers for weddings and events.
Outdoor beach front ceremony location.
Indoor reception site
Indoor ceremony site.
Up to 220 guests capacity limit.
Up to 400 guests if booking entire restaurant.
Dinnerware, flatware and glassware.
Reception tables and chairs.
Day of wedding coordination.
Ceremony chairs.
Full setup and clean up service.
Full bar set up and bartender.
Catering for meals.
Handicap Accessible.
Private reception balcony.