Palisades Tahoe Wedding Photography
Palisades Tahoe wedding photography of a couple walking around in the open meadow area of the Olympic Valley on a summer day at the high Sierra alpine. The meadow area surround the valley floor is a prefect location for wedding photos and is an iconic location for them. No matter how many times I take pictures out there I'm always amazed of the beauty of the valley floor.
Palisades Tahoe Ski Resort is located at the end of the Olympic Valley on the North side of Lake Tahoe. This is one of the most picturesque mountain valleys in all of Tahoe. There are couple ceremony sites at this venue with one being right next to the Olympic Lodge. This ceremony site is located on a lush green lawn with views of valley and sits next to the lodge. The lodge is where the reception party and dinner will be located. If you're looking for a wedding location with amazing views of the whole valley and the lake then look no further than High Camp. The ceremony location at high camp is one of the most spectacular in all of Lake Tahoe and Truckee. When you're on top of the deck over looking all of the Olympic Valley, surrounding Sierra mountain tops and getting a view of North Lake Tahoe you'll understand why couples choose to marry on top of this mountain. The Terrace Room is where your reception will take place at High Camp. This area is located right on the cliffside and has huge floor to ceiling windows that give you those same amazing views. The bonus of having your wedding up their is you get to take the Palisades Tahoe tram up to your wedding festivities. This reception area has staggered levels through out the room to allow a spaced out dinner reception. Your dance floor will be located in the center of the Terrace Room.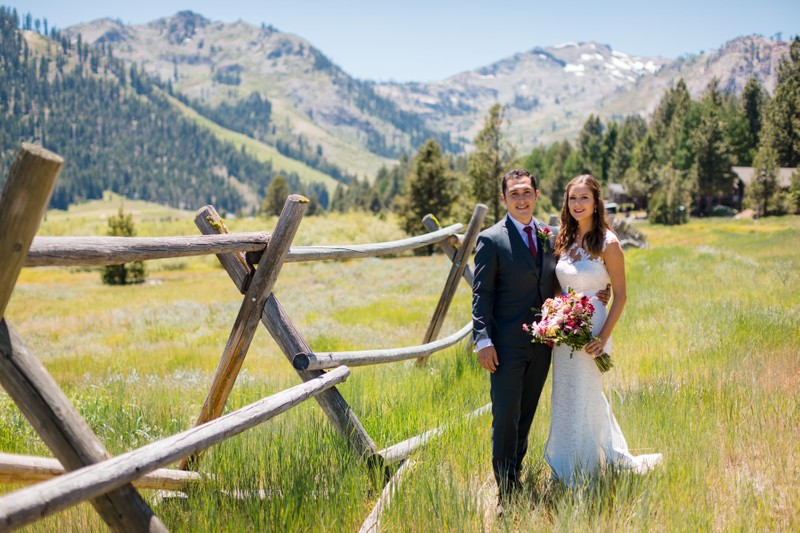 Here's a list of unique list of services that Palisades Tahoe Resort offers for events and weddings.
Day of wedding planner.
Outdoor and indoor ceremony sites
Indoor reception and dancing sites.
Banquet Staff, bartender and bar.
Plates, silverware and glassware.
Tables, chairs, linens and a dance floor.
Catering for event and dinner services.
Free parking for guest.
Setup and cleanup services by staff.
Capacity is up to 200 guests.
Able to host events year-round.
Onsite accommodations for guest.
If you are interested in hiring Doug Miranda Photography to photograph your wedding day please fill out the contract form on this website. You can also email me directly at doug@dougmiranda.com or give me a call at 916-422-2256. I look forward to hearing from you.