Lake Tahoe Micro Wedding Ceremony
Lake Tahoe micro wedding ceremony photos at Round Hill Pines Beach Resort in South Lake Tahoe on a summer morning near Zephyr Cove. Wedding ceremonies can take place in two locations at Round Hill Pines Beach Resort. The first ceremony location and the largest is the beach waterfront cite. This area can hold up to 225 guest to watch your nuptials. This site is located to the far left side of the beach area to keep beach goers away from your ceremony. You'll have grand views of Lake Tahoe, Mt.Tallac and all of the west shore as your backdrop while you get married. Now who wouldn't want a sandy beachfront wedding at one of the most picturesque lakes in North America. The second wedding ceremony location at Round Hill Pines is located on their waterfront pier. The dockside ceremony site can only hold 30 standing guest, but this is an amazing spot to get married at. You'll be out over the crystal clear blue water of Tahoe as you recite your vows. So depending the size of your wedding and what location you like you'll have to great ceremony sites to pick from. The bonus for both of these locations is that you'll have a Lake Tahoe beach front wedding venue.
When it comes to having your wedding photos taken there are plenty of scenic locations to have them taken at. This being family formals, bridal party and couple portraits. You have access to all the beach and shoreline, then the waterfront pier and the surround pine forest for a change of scenery. Trust me you will not be disappointed when your get your wedding pictures back from your Round Hill Pines Beach Resort wedding photographer.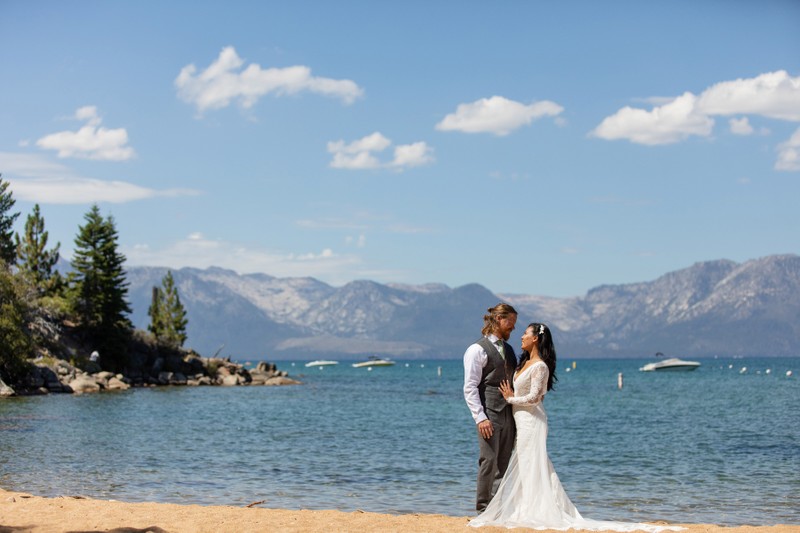 If you're looking to host a Lake Tahoe beach front wedding then you should put Round Hill Pines Resort on your list of venues to visit while in the area. You'll be happy that you did. There's a reason why lots of couple's choose this waterfront venue to tie the knot at. Please get in touch with their staff to set up a site visit, so you can see this amazing property for yourself.
Here's a guide of unique services that Round Hill Pines offer for events and ceremonies.
Banquet Staff, bartender, service staff and bars.
Tables, chairs, linens and a dance floor.
Catering for event and dinner services.
Outdoor ceremony and reception locations.
Plates, silverware and glassware.
Free parking for guest.
Day of wedding planner.
Set up and clean up of event.
Ceremony guest capacity is 225.
Reception guest capacity around 120. For information about more reception guest must contact resort.
Location: 300 US-50, Zephyr Cove, NV 89448..