Lake Tahoe Elopement Ceremony Site
Lake Tahoe elopement ceremony site that was located high above the sandy beaches, but had zero crowds on a busy summer weekend with no one around. This secret spot had the most amazing views of Tahoe and basically had no one around during a perfect summer Saturday.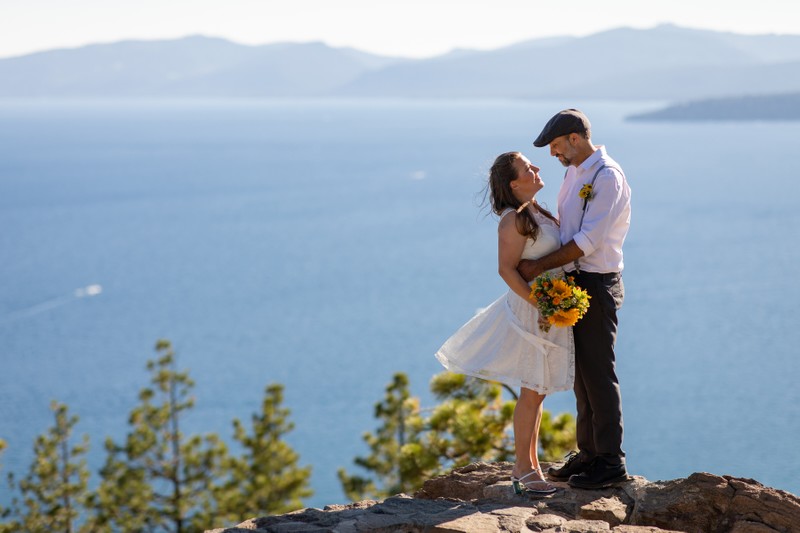 Here's a list of a couple popular elopement spots around Lake Tahoe. The first one is Emerald Bay, which is one of the most stunning locations around Tahoe. But over the years it has become insanely busy and packed with tourist. I would highly recommend a morning ceremony at Emerald Bay in order to beat the crowds and have those perfect backlit photos. In order to get married here you must have a permit through the National Forest Service, which you can obtain through one of their local offices in Tahoe. The other way is to hire an officiant that can marry you and get one of those permits for you at the same time. If you're not having a friend marry you than this is the way to go if you're wanting to have your ceremony around Emerald Bay. Most high profile locations around the lake require this same Forest Service permit to host your ceremony. So be sure to check if you need one.
Here's a quick list of elopement ceremony locations.
Emerald Bay State Park
Sand Harbor
Logan Shoals Vista Point
Donner Lake
Donner Pass
Squaw Valley
Truckee River
Fall Leaf Lake
Hope Valley
Zephyr Cove
West Shore of Lake Tahoe
Location: 2005 NV-28, Incline Village, NV 89452.