Hyatt Regency Lake Tahoe Bridal Wedding Photo
Hyatt Regency Lake Tahoe bridal wedding photo of a smiling bride playing with her veil out on the lakefront pier on a cool fall day along the north shore. My number one reason that you should host your wedding at this wedding venue is the location. There are very few lakeside venues that surround the lake. So with that in mind you'll realize the magic that this event site has when you walk along the shoreline and imagine yourself tying the knot here. Please do yourself a favor and take a site visit here if you're planning a Tahoe wedding. You'll be happy that you did once you start walking around and seeing all the sites of this massive property. Again who wouldn't what to get married lakeside at one of the most extraordinary lakes in America and at a luxury resort? I know I wouldn't mind.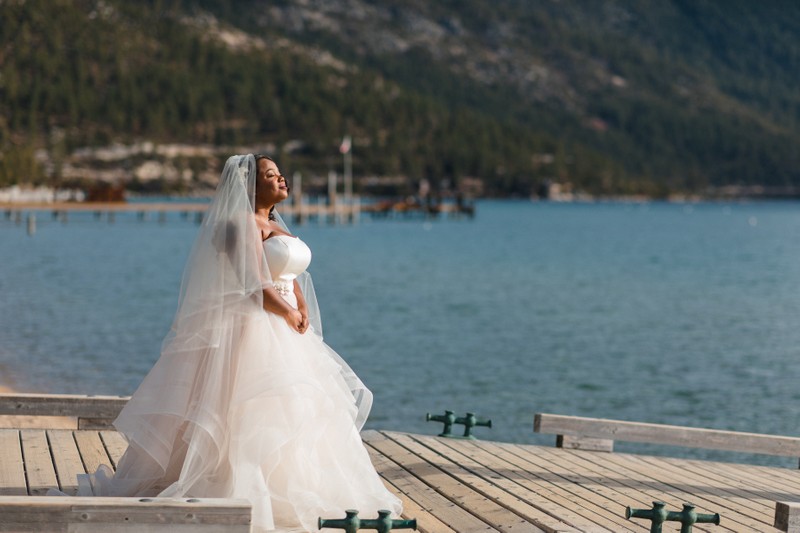 Here's a list of unique services that they offer for events.
Day of wedding planner.
Wedding ceremony rehearsal walkthrough.
Banquet Staff, bartender and bar.
Plates, silverware and glassware.
Tables, chairs, linens and a dance floor.
Catering for event and dinner services.
Inside ceremony and reception area.
Outdoor ceremony and reception area.
Valet parking for guest.
Setup and cleanup services by staff.
Capacity is up to 500 guests.
Able to host events year-round.