Gatekeeper's Museum Wedding Ceremony Photography
Gatekeeper's Museum wedding ceremony photography of a bride being given away by her father to the groom at the start of the ceremony service in Tahoe City. Photos like this one are priceless and are such a gift for couples to remember what exactly happened during this special moment. Things happen so fast that it's really hard to remember everything from your big day. This is where candid photos like this one will bring you back to that moment in time. Gatekeeper's Museum is a wedding venue located along the shore of North Lake Tahoe in the charming high Sierra mountain town of Tahoe City, California. This venue is located right next to Lake Dam where the water rushes out to form the Truckee River. This location is an all outdoor event center that host weddings from May through October. The area in which all your events will take place at is just behind the museum in a big open area next to the forest and wooded shoreline. This North Tahoe venue is one of only a handful locations that are located right on the waters edge. With that in mind this is one of the many reasons this site is such a highly popular location for newly engaged couples to get married at. The venue has no getting ready area, but does come with a staging area inside the museum for the bride to keep hidden in. The ceremony location is right next to the lake and surrounded by a tall pine tree forest. This site give you some amazing views of North Lake Tahoe and the surrounding mountains. Again this is one of the main factors couples pick Gatekeeper's to host their ceremony and reception at. After walking back down the aisle you'll be able to enjoy your cocktail hour and reception next to the museum in the open area. Some cocktail hours even take place where your ceremony took place after the chairs are moved to all the dinner tables.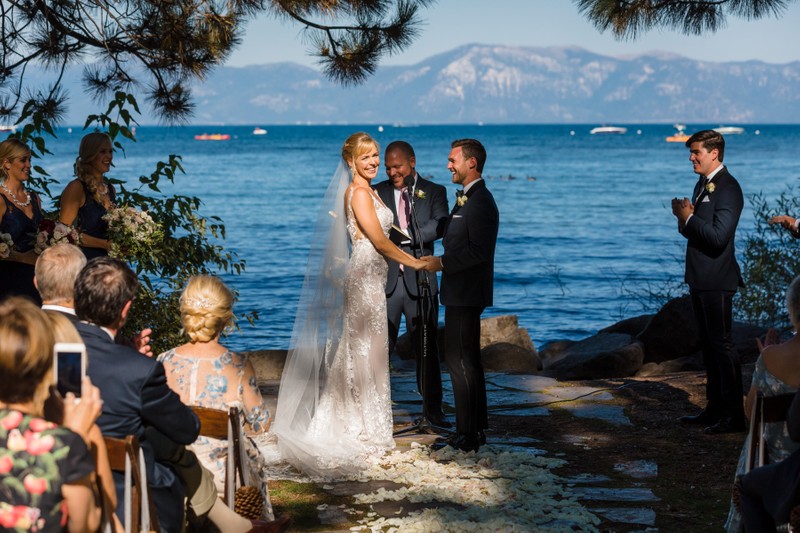 Location: 130 W Lake Blvd, Tahoe City, CA 96145..