Emerald Bay Wedding Ceremony Photos Lake Tahoe
Emerald Bay wedding ceremony photos Lake Tahoe of a newly married couple cheering and raising their hands in excitement just after being announced as husband and wife. The next step is finding and booking your wedding venue or elopement location. A good amount of the wedding venues in Tahoe do offer elopement and small wedding packages. So it's a good idea to check out some of the wedding venues to see if you're able to elope on their property. Some of these wedding venues only offer these elopement packages Monday through Thursday. If you would like to find a list of Lake Tahoe wedding venues please check out the list that I have made for couples.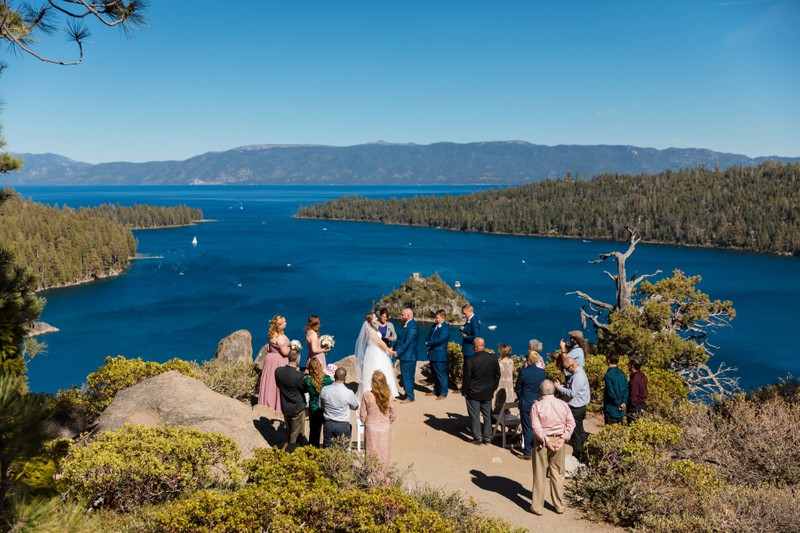 Emerald Bay, which is one of the most stunning locations around Tahoe. But over the years it has become insanely busy and packed with tourist. I would highly recommend a morning ceremony at Emerald Bay in order to beat the crowds and have those perfect backlit photos. In order to get married here you must have a permit through the National Forest Service, which you can obtain through one of their local offices in Tahoe. The other way is to hire an officiant that can marry you and get one of those permits for you at the same time. If you're not having a friend marry you than this is the way to go if you're wanting to have your ceremony around Emerald Bay. Most high profile locations around the lake require this same Forest Service permit to host your ceremony. So be sure to check if you need one.
If you are interested in wanting Doug Miranda Photography to photograph your wedding day please fill out the contract form on this website. You can also email me directly at doug@dougmiranda.com or give me a call at 916-422-2256. I look forward to hearing from you.