Edgewood Tahoe Wedding South Room Wedding Photos
Edgewood Tahoe wedding south room wedding photos of a newly married couple having their portraits taken on the waterfront pier during a summer sunset. Depending on what ballroom your wedding takes place in will determine what part of the property you have access to for these pictures. With the North Room you'll have access to the beach and shoreline from your ballroom going north up the beach. You'll also have access to that side of the club house and the front of it. South Room couples will have access the beach and shoreline from their ceremony site going southward away from the clubhouse. You'll also have access to the private pier that is located on the grounds, along with the lodge's lawn. North Room couples can have access to this south area if there is not another event happening on that day in the South Room. This venue is a photographers dream with being located right on the beach, which is private and free of tons of tourist during those summer months. Once you're finished with your photographs you'll head back up to your ballroom to enjoy the rest of your cocktail hour with your guest or be introduced into one of the ballroom to start off your reception for the night.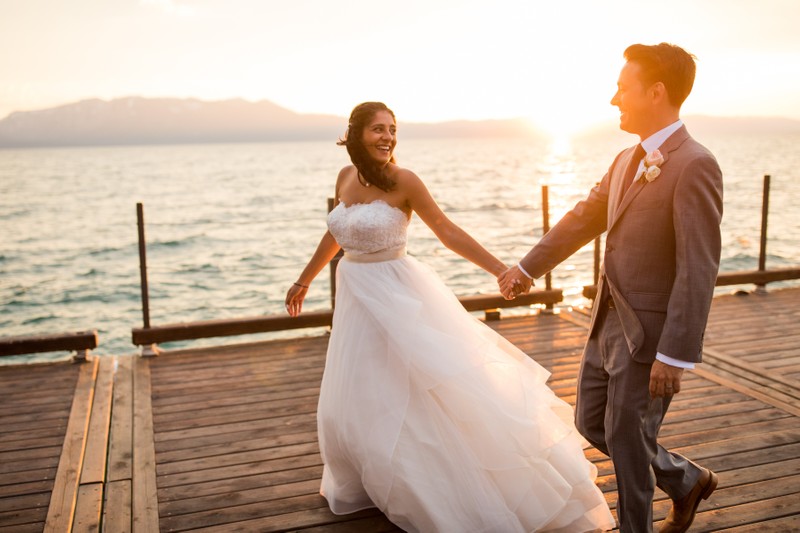 Here's a list of unique services that Edgewood Tahoe offers for every wedding and event that they host.
Outdoor ceremony site.
Indoor reception site
Indoor ceremony site.
Bridal suite.
Up to 200 guests capacity limit for a ceremony and reception.
Tables, chairs, linens and a dance floor.
Banquet Staff, bartender and bar.
Plates, silverware and glassware.
Catering for event and dinner services.
Day of wedding planner.
On-site accommodations.
On-site parking for guest and valet parking.
Setup and cleanup services by staff
Ceremony chairs.
Handicap Accessible.
Location: 180 Lake Pkwy, Stateline, NV 89449..