Edgewood Tahoe Wedding Photography
Edgewood Tahoe wedding photography of a newly married couple walking back down the aisle of their ceremony after being announced as husband and wife. During this moment I usually get some great candid photos of the couple as they usually can't believe that they are finally married and it still feels surreal that the ceremony is over. Ceremonies at Edgewood Tahoe can take place in a handful of areas around the property. Most all ceremonies take place at the Clubhouse, which is divided into two sections or two ballrooms. The biggest ballroom and the one that can hold the most guest is the North Room. The North Room is for weddings of 100 guest or more. If you event is taking place in the North Room your ceremony will be held outside on the lawn that runs right up to the waters edge. You can also use the North Deck area to host your ceremony, but this area is mainly used for your cocktail hour to be hosted at. If for some reason you run into bad weather on your big day Edgewood has the ability to hold all your events indoors. The smaller of the two ballrooms located at the Clubhouse is the South Room. This ballroom is for events of 100 or less guest. The ceremonies that take place at the South Room are also held outdoors on the resorts lawn, which is located a stones throw from the lake. Both these ceremony areas have some of the best views in all of Tahoe, which makes this venue such a sought after location to host your wedding festivities at. Besides the South Room lawn you can also host your nuptials up on the South Room Deck, which is also the location for you guest to enjoy cocktail hour, while you're having your wedding portraits taken. Depending on the size of your wedding Edgewood can also host your event at the Grand Lodge or out on the massive hotel lawn or the 17th green for you to tie the knot on. The other huge plus is that this venue is able to host weddings year around, unlike other Tahoe wedding locations that only operate from May to the end of October.
My number one reason you should host your wedding at Edgewood Tahoe is location. This golf course and resort is located on one of the most beautiful pieces of property in all of Tahoe. It's located right on the lake and a surrounded by a pristine pine tree forest. The grounds at the resort are kept up and always look immaculate. Once you see this venue with your own eyes you'll realize immediately way so many couples get married here.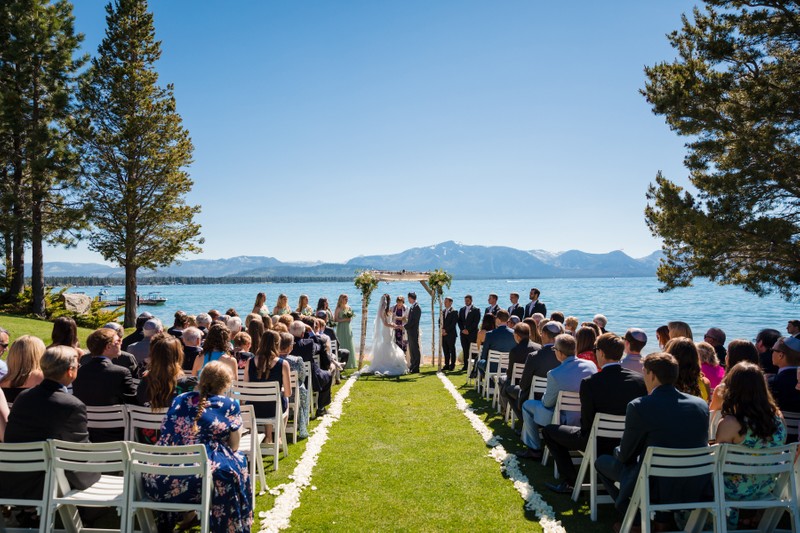 Here's a list of unique services that Edgewood Tahoe offers for every wedding and event that they host.
Outdoor ceremony site.
Indoor reception site
Indoor ceremony site.
Bridal suite.
Up to 200 guests capacity limit for a ceremony and reception.
Tables, chairs, linens and a dance floor.
Banquet Staff, bartender and bar.
Plates, silverware and glassware.
Catering for event and dinner services.
Day of wedding planner.
On-site accommodations.
On-site parking for guest and valet parking.
Setup and cleanup services by staff
Ceremony chairs.
Handicap Accessible.
Location: 180 Lake Pkwy, Stateline, NV 89449..