Edgewood Tahoe Wedding First Look Photography
Edgewood Tahoe wedding first look photography of a bride and groom seeing each other for the first time on their big day out on the lodge lakeshore lawn. Edgewood Tahoe is one of the premier wedding and event venues in all of Lake Tahoe. Edgewood is located in South Lake Tahoe on the shoreline of Stateline, Nevada. This golf course and resort venue is one of a very few locations that are located on the lake shore and will allow you to get married on the waters edge. Just this alone will have you wanting to host your wedding events here and why so many couples choose to get married here. When you're finished with these formal portraits you'll be able to walk around the grounds and have your couples portraits taken by your Edgewood Tahoe wedding photographer. Depending on what ballroom your wedding takes place in will determine what part of the property you have access to for these pictures. With the North Room you'll have access to the beach and shoreline from your ballroom going north up the beach. You'll also have access to that side of the club house and the front of it. South Room couples will have access the beach and shoreline from their ceremony site going southward away from the clubhouse. You'll also have access to the private pier that is located on the grounds, along with the lodge's lawn. North Room couples can have access to this south area if there is not another event happening on that day in the South Room. This venue is a photographers dream with being located right on the beach, which is private and free of tons of tourist during those summer months. Once you're finished with your photographs you'll head back up to your ballroom to enjoy the rest of your cocktail hour with your guest or be introduced into one of the ballroom to start off your reception for the night.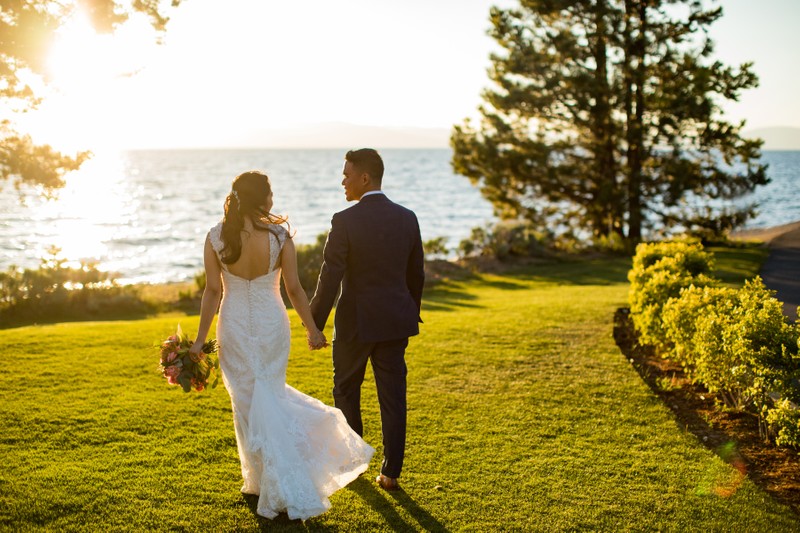 Location: 180 Lake Pkwy, Stateline, NV 89449..