David Walley's Resort Wedding Photos
David Walley's Resort wedding photos of a bride and groom having their pictures taken out in one of the open fields near the ceremony site on the grounds. This winter wedding presented us with some amazing views and backdrops for their pictures after their small ceremony. David Walley's Resort is a hidden oasis located in the same town of Genoa Nevada, which is located right at the base of the Sierra Nevadas. This perfect wedding venue is located right next to natural hot springs, which is the main attraction at this hotel besides it's weddings. When getting married at this resort you'll be able to get ready in one of the many surround hotel rooms that are located on the property grounds. This is always a huge bonus when brides and grooms can get ready at the venue they're holding all their events for the day. By doing this you'll be more relaxed and most likely be on time to your ceremony. The other plus to this is that all your guest have the option to stay there too. This is great for your guest who also want to relax and party the night away at your wedding day.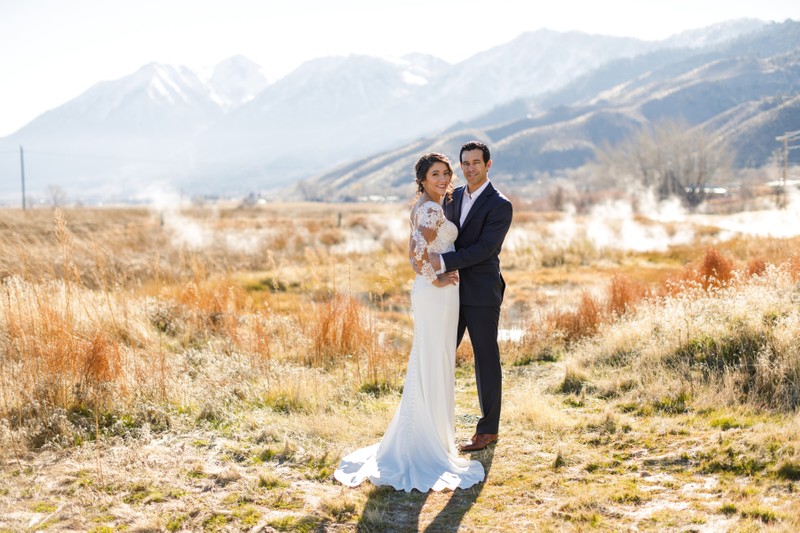 If you're a couple looking to get married in the Carson City, Reno or Tahoe area you should take a site visit at this gem of a location to see if it fits your weddings needs.
Here's a list of unique services that David Walley's Resort offers for every wedding and event that they host.
Outdoor ceremony site.
Indoor and outdoor reception site
Indoor ceremony site.
Up to 200 guests capacity limit for a ceremony and reception.
Tables, chairs, linens and a dance floor.
Banquet Staff, bartender and bar.
Plates, silverware and glassware.
Catering for event and dinner services.
Day of wedding planner.
On-site accommodations.
On-site parking for guest and valet parking.
Setup and cleanup services by staff.
Ceremony chairs.
Handicap Accessible.
Location: 2001 Foothill Road Genoa, NV, 89411..