David Walley's Resort Wedding Photographers
David Walley's Resort wedding photographers captured this photo of a newly married couple walking through one of the open fields by the hot springs after their ceremony on a cold winters day. The views around this Genoa Nevada wedding venue are beyond breathtaking, which is one of the reasons it's a popular event center. David Walley's Resort is a hidden oasis located in the same town of Genoa Nevada, which is located right at the base of the Sierra Nevadas. This perfect wedding venue is located right next to natural hot springs, which is the main attraction at this hotel besides it's weddings. When getting married at this resort you'll be able to get ready in one of the many surround hotel rooms that are located on the property grounds. This is always a huge bonus when brides and grooms can get ready at the venue they're holding all their events for the day. By doing this you'll be more relaxed and most likely be on time to your ceremony. The other plus to this is that all your guest have the option to stay there too. This is great for your guest who also want to relax and party the night away at your wedding day.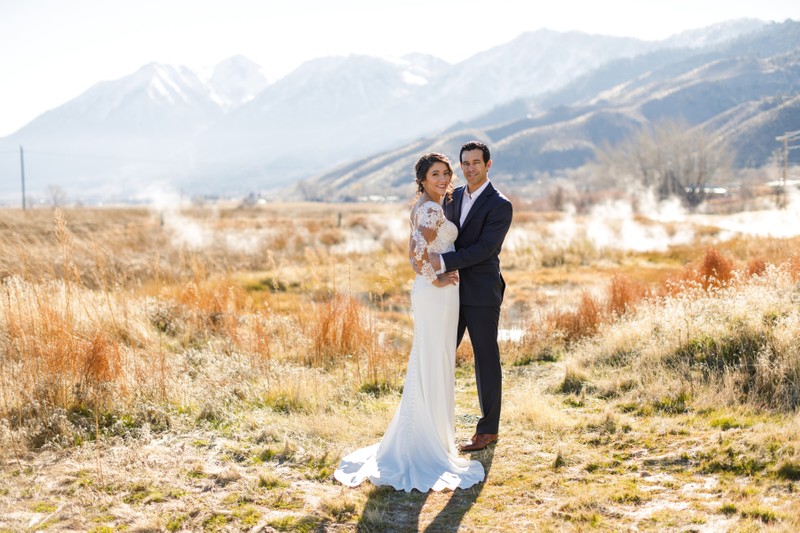 When it comes to wedding photography locations at David Walley's Resort you will not be disappointed. There are many great areas around the hotel grounds to have your couples portraits taken at by your photographer. Some of the locations are the open fields by the ceremony site that have the amazing views of the valley and mountains. One other locations is right near the reception site that is surround by all the hot spring pools. There's some other locations too, but you'll have to find those for yourself by exploring the walking trails mourned the property.
Location: 2001 Foothill Road Genoa, NV, 89411..