Chateau Incline Village Wedding Ceremony Photography
Chateau at Incline Village Wedding Ceremony Photography of a bride smiling at her husband during the middle of their nuptials on a cool fall day in North Lake Tahoe. Ceremonies can take place at three location around the Chateau's property. The first location for a ceremony is on the 10th tee box out on the golf course which overlooks the 18th hole and has views of Lake Tahoe. The second wedding location is nestled in the trees at the Creekside Ceremony Site. This area is right next to a rushing creek under the tall canopy of pine trees, which gives ample shade on those hot summer afternoons. The last ceremony site is located inside the grand ballroom next to one of the massive fireplaces. The inside location is great for winter weddings and when the weather takes a turn for the worst or if its just to cold outside. All three of these locations are stunning and no matter which one you pick to get married at your big day will be amazing.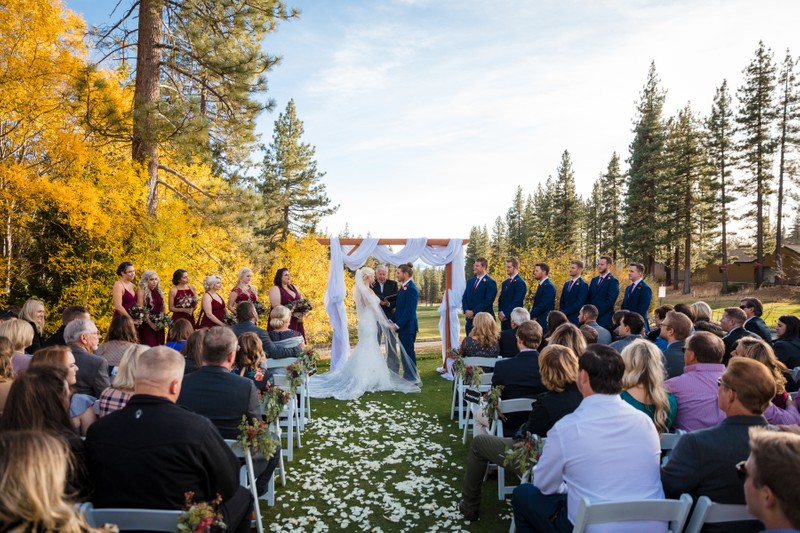 Here's a guide of unique services that the Chateau offer for events and ceremonies.
Banquet Staff, bartender, service staff and bars.
Tables, chairs, linens and a dance floor.
Catering for event and dinner services.
Inside ceremony and reception area.
Outside ceremony locations.
On site dressing room.
Plates, silverware and glassware.
Free parking for guest.
Day of wedding planner.
Set up and clean up of event.
Able to host events year around.
Guest capacity is 250.
Location: 955 Fairway Blvd, Incline Village, NV 89451..